CANCELLED: Sun 11 Sept, 2022
10am-4.30pm
Explore transprint dye printing in this one-day workshop. You'll learn how to paint inks onto paper that you can then print onto synthetic textiles, perhaps then adding other embellishments like embroidery to create 2D art or add to a wearable garment.
Transprint dye techniques are a magical way of creating a watercolour type painting onto textiles.
Your tutor, expert print-maker Anne Langdon will demonstrate these techniques and share examples to inspire your creativity.
Materials provided including watercolour paper and a calico bag to print onto.
Bring an old print or another background image to use as a mixed media.
[Images: Anne Langdon]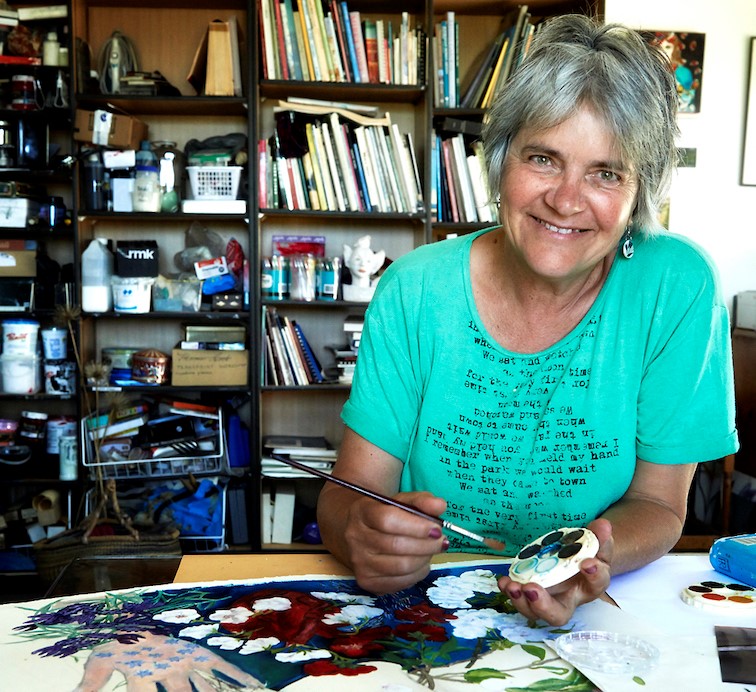 Anne Langdon lives in Smythesdale at Birchgrove and her studio is an important part of the property. Anne has been involved in her art practice for many years and in the past years at Smythesdale she has found her bush surroundings have stimulated and enhanced her whimsical and figurative style
Anne Langdon concentrated initially on printmaking, and worked on multi coloured silk-screens using the negative screen technique. She then moved onto relief prints, mono prints, non-toxic etchings and solar plate etchings. She also finds it interesting to combine prints and painting together which often creates a more textural collage effect.  The use of the transprint printing technique is an example of extending this experimental painting and adding textures to mixed media works.