NEW DATE: Sat 14 May, 2022
10am-3.00pm
Jodie Goldring
Book here
Workshop $110 + $20 materials fee (paid at the workshop)
8 participants only
COVID Safe plan in place: full refund if govt COVID requirements result in cancellation.
Jodie Goldring is a notorious gleaner, artist and teacher who brings a broad range of creative experiences to her basketry.
In this workshop, you'll learn how to use natural materials to make a small melon basket using the traditional basketry technique of ribbed construction.
Starting by lashing two intersecting willow hoops together to create a basic framework, we'll add ribs for structural integrity and strength before creating a woven surface using plant materials such as iris, red-hot poker, bulrushes, watsonia, and willow.
As well Jodie will share information about how to collect, dry and prepare your own materials to use at home.
[Image: A wild basket weave – Jodie Goldring]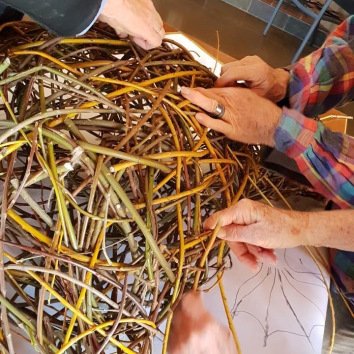 Jodie Goldring is a notorious gleaner, sculptor and passionate art teacher who creates through weaving and stitching. See her work at www.jodiegoldring.com.au