Opening: Sat 30 July, 10am-12 pm
Weekends: Sat & Sun, 30-31 July and 6-7 August, 10am-4pm.
All welcome
Mark Dober
Jenny Merkus
Petra Kleinherne
Ulrike Radichevich
Julie Goodwin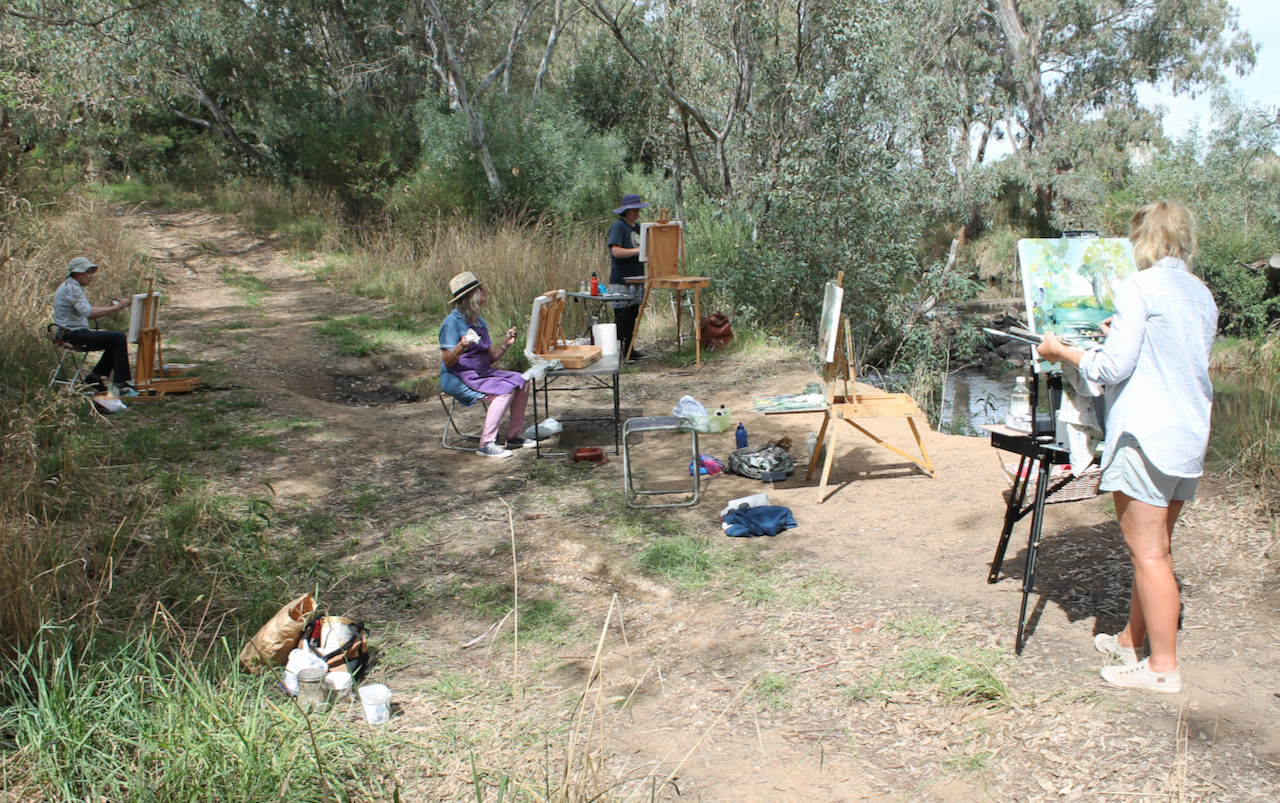 Experience plein air painting through the works of these five artists, the results of a 3-day workshop with Mark Dober in March 2022.
Four artists, with tutor Mark Dober, met during March at locations around Newstead – gum trees on the road out of town to the cemetery, at Picnic Point with its views of Cairn Curran, and at the Loddon River – to experience plein air painting in oils.
Reflecting on the experience, Mark Dober said: 'Plein-air painting is, of course, not an easy thing to do. It takes time and a lot of practice to do well, and all the time, the artist is striving to find their own individual expression.'  
 Join the artists to celebrate the results: opening event Sat 30 July, 10am-12pm.
ABOUT THE ARTISTS
Mark Dober
Mark makes his paintings – both oils on canvas and watercolour on paper – on site in the landscape. His method emphasizes immediacy and directness, and combines observation with imagination.
Mark has regular solo exhibitions, his most recent being Murrumbidgee, at Wagga Wagga Art Gallery in late 2021. He regularly shows his work in national contemporary art prizes, and exhibits at Alexandra Sasse Gallery in Melbourne and at regional galleries across Australia.
Mark has a PhD in Painting from Monash University and is a published art writer. Mark lives in Castlemaine.
Jenny Merkus
My art practice began in 2013. I am inspired by landscapes, especially around Maldon, where I have a deep sense of being at home and a love of country. I also sketch and paint landscapes plein air whilst travelling in Australia and overseas. I also work in the studio from sketches and photographs, and to finish work started on location.
I am fascinated by portraiture. My love of drawing started with drawing faces in meetings, cafes, whilst sitting with friends. I have painted many portraits of family and friends which now live in my home and theirs. I have also painted subjects for the Maldon Portrait Prize, which I was thrilled to be awarded in 2016.
Petra Kleinherne
Petra Kleinherne came to Australia from Germany in 1981 and lives and works in Melbourne. She studied Visual Arts at Victoria University and holds a Bachelor of Fine Arts Painting from Monash University ( 2010 ).
Colour and the landscape drive her painting, man-made structures and the figure may appear. She mainly works with oil paints. The work lies between abstraction and figuration and is intuitive and process driven.
She has shown with Jacob Hoerner Galleries – Wanderer in 2020 and Farbräume in 2021. A further solo show with the gallery is planned later in the year.
 Ulrike Radichevich
Ulrike Radichevich was born in Salzburg, Austria. She studied Set and Costume Design in her home town with further studies in the visual arts (painting) at the International Summer Academy. She also trained as a Textile Engineer.
Ulrike has had numerous engagements in the theatre in Austria as well as in numerous productions in the opera houses of Germany, Italy, Switzerland and Ireland.
Ulrike regularly commutes between her country of residence, Australia, and Europe, where she works as a set and costume designer for European theatre companies. Ulrike has also been artistic director of the costume department of Theater Luzern, and has taught fashion design at the Institute of Fashion, Zurich.
Ulrike's graphics and paintings have been exhibited in various European galleries.
Julie Goodwin
Julie grew up on a dairy farm in rural Victoria before studying painting at RMIT in Melbourne.
She has exhibited extensively in Melbourne and Regional Galleries in Victoria, including Monash Gallery of Art, and the Horsham and Warrnambool Galleries with her deeply personal interiors and self portraits. After moving to Canberra and now to Castlemaine her focus has been on the landscape of her new home.
Her work is in a number of public collections, including The Arts Centre Collection in Melbourne. The Dax Collection at the University of Melbourne has a number of her paintings of the Black Friday bushfires.