Sat 19 Nov, 2022
10am-4.30pm
Susan Clarke
Book here
Workshop $125 (plus $20 materials fee paid in cash at the workshop)
5 participants only
Susan requests that participants are vaccinated and willing to wear a mask at the workshop as she is immune compromised.
Creating stunning lino prints
Inspired by the Gardens of the Imagination exhibition and the first workshop, Susan Clarke is offering a second workshop on multi-block lino printmaking.
At the workshop, you will experiment with water-based block inks and mediums and learn safe lino print practices: the use of tools and both hand printing & book press printing processes. A special focus will be multi-block lino printmaking. You will create a selection of artworks on paper to take home.
Bring some postcard size images – drawings or other images as a basis for your work. Please consider copyright when choosing images. Susan will bring a range of resources for further inspiration.
All materials supplied including lino, paper, inks and tools. No experience necessary. Please bring an apron and wear covered shoes, and don't forget your mask!
[Images: Susan Clarke]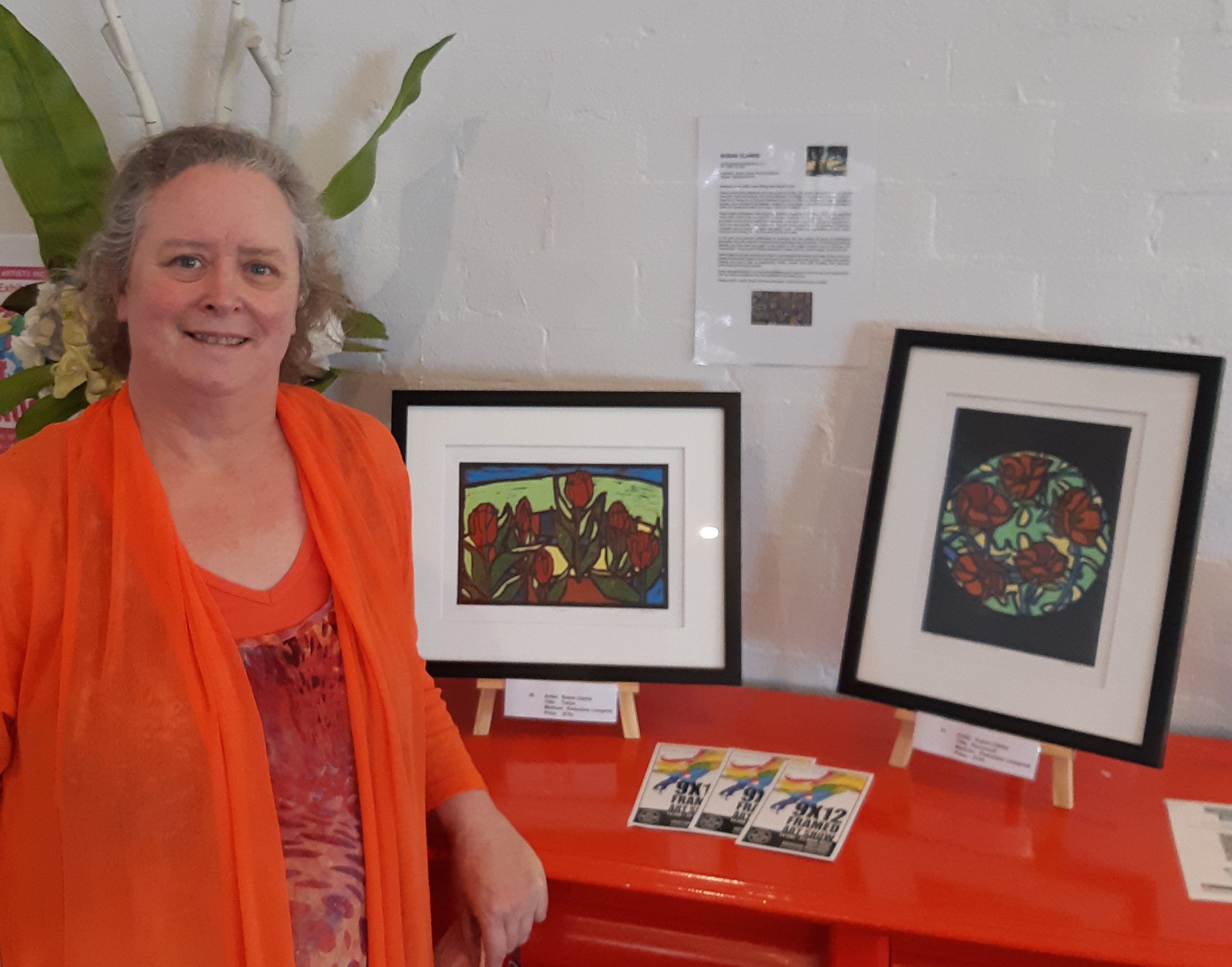 Everyone is an artist, even if they don't know it yet! 
Susan enjoys many aspects of art making and creativity.  Her artistic interests from a young age were with music and singing. She briefly attended the Melba Conservatorium and later gained a Grad Dip in Music Ed. at the then Ballarat University in 1994 and became a Music Specialist in schools. As a member and Business Secretary of the Ballarat Society of Artists Inc., Susan values the many opportunities to share and create with others who enjoy a common interest in art.
Susan began printmaking while studying a teaching degree at ACU  2004 – 2007.  She completed many other music and art units but found that she was drawn to the Visual Arts.  This gave her the grounding to be an Art Specialist and explore her creativity in a new way, through primary teaching and in her own practice.   Susan has completed art units online, including printmaking, through OUA with Curtin University and attended night sessions at Fed Uni and other art workshops.
In her own art's practice, printmaking dominates and she enjoys all types of printmaking processes, lino print, drypoint, monoprint and engraving being favourites. "One thing printmaking teaches you time and time again is the power of the happy accident and to embrace the unexpected."  Andy Lovell (Pressing Matters 07)
Never afraid to try new ventures and keen to encourage printmaking to all ages. Since 2017, Susan has successfully run private printmaking classes and workshops for small groups. Occasionally, she attends markets including Castlemaine Artists Market in warmer months. She sells privately and promotes printmaking where-ever possible.
Susan has participated and won prizes in a number of exhibitions and is looking forward to the opportunities with her involvement with Goldfields Printmakers and Ballarat Society of Artists Inc.